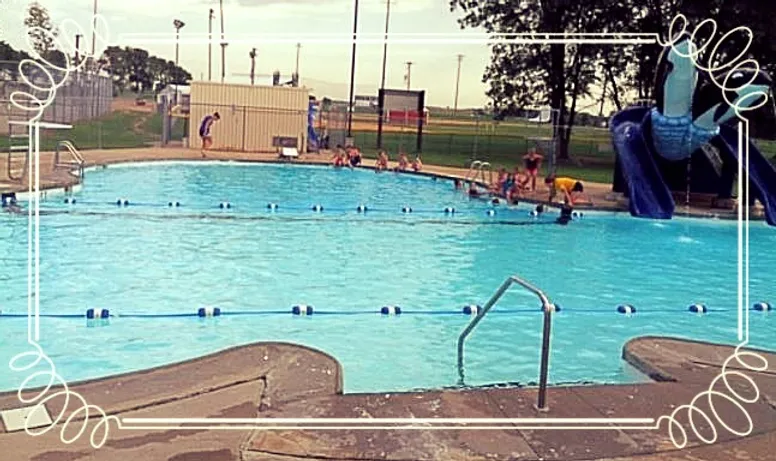 The Emery Swimming Pool is an outdoor, lifeguard-staffed, swimming facility featuring a double Shamu waterslide that reaches 14 feet into the air, a 32 foot diameter wadding pool with zero depth entry, and a diving board that the whole family will enjoy. It is located in the City Park at 520 North 4th Ave, Emery.
Concessions are offered on-site. Surrounding park facilities include picnic shelters equipped with electricity, playground equipment, tennis courts, sand volleyball courts, and a softball and baseball diamond, making this a terrific park for all kinds of get-togethers.
The Emery Pool is operated and maintained through the City of Emery.
For more information about the pool, please call Krista Kayser at 605-254-8509 or you may contact the City Office at 605-449-4455 or Email EmeryCity
Pool Hours:
Sunday through Saturday, 1:00 pm - 8:00 pm
Admission Prices:
General Admission (4 years and older): $5.00
General Admission (3 years & younger): Free
Season Passes:
Single Membership = $50.00
Family Membership = $125.00
***Any person who enters the pool area must either have a membership or pay a daily rate, regardless of if they are swimming or not. If a person is not swimming, they can watch from outside the fence.
Swimming Lessons
$25.00 per child, individual lessons are available
City Pool Staff
Krista Kayser - Manager & WSI
Kerrigan Schultz - Head Lifeguard & WSI
Camdyn Stoterau - Lifeguard
Maizey Strombeck - Lifeguard
Tekoa Strombeck - Lifeguard
Calvery Bickett - Lifeguard
Austin Duerksen - Lifeguard
Katrina Thon - Lifeguard
Austin Kjetland - Lifeguard
​Krista's contact information:
Phone: 605-254-8509